NeWRA & NSIA Joint Convention
ATTENTION CONVENTION GOERS:
September 16, 2019 — The Kearney Holiday Inn will begin taking phone reservations on September 23, 2019 at (308) 237-5971 or (855) 444-5769. Phone lines will be manned from 7:00 AM – 10:00 PM. Please do not call before September 23rd.
Upcoming Convention Dates/Location
November 24-26, 2019
November 22-24, 2020
Location:
Holiday Inn Convention Center
110 2nd St
Kearney, NE  68848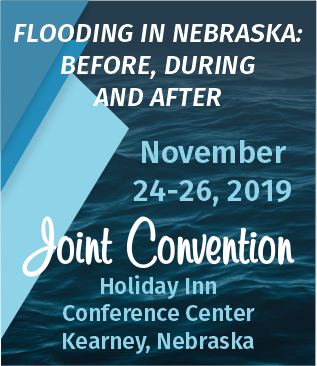 Flooding In Nebraska: Before, During & After
2019 JOINT CONVENTION & TRADE SHOW
SPONSORED BY: NEBRASKA STATE IRRIGATION ASSOCIATION AND NEBRASKA WATER RESOURCES ASSOCIATION
NOVEMBER 24-26, 2019
Holiday Inn Conference Center
110 S 2nd Avenue, Kearney, NE 68847
308-237-5971
DOWNLOAD EXHIBITOR, ADVERTISER, SPONSOR BROCHURE
DOWNLOAD EXHIBIT SPACE ORDER FORM, SPONSORSHIPS AND ADVERTISING ORDER FORM
DOWNLOAD ATTENDEE BROCHURE (Includes program details)

Convention Program
SUNDAY, NOVEMBER 24
7:00 PM
NSIA Board of Directors
MONDAY, NOVEMBER 25
7:30 AM – 4:00 PM
Registration

8:00 AM – 9:00 AM
NSIA Annual Members Meeting
9:00 AM – 9:15 AM OPENING SESSION
Welcome from Kearney Mayor Stanley Clouse
9:15 AM – 9:45 AM MORNING 1ST SESSION
Overview: Factors Contributing to Spring Floods in Nebraska
Al Dutcher, Nebraska State Climatologist
9:45 AM – 10:15 AM MORNING 2ND SESSION
Streams' Response to Precipitation and Other Factors 
David Rus, Hydrologist and Water-Quality Specialist, USGS
10:15 AM – 11:00 AM BREAK
Visit Exhibits

11:00 AM – 11:30 PM MORNING 3RD SESSION
Flood Control Act and the Missouri River
Matt Krajewski, US Army Corps of Engineers
11:30 AM – 12:30 PM MORNING 4TH SESSION
Operation of Water Systems during Floods
Panel:
Steve Owen, Lincoln Water System
Steve Ausdemore, Metropolitan Utilities District
Erv Portis, City Administrator – Plattsmouth, NE
Lucas Billesbach, JEO Consulting Group
12:30 PM – 1:30 PM LUNCHEON PROGRAM
Historical Presentation on Flooding in Nebraska
W. Don Nelson, Former Chief-of-Staff to Senator Ben Nelson
1:30 PM – 3:00 PM AFTERNOON 1ST SESSION
Levees vs. Flood Waters and the Flood's Aftermath
Panel:
David Kimball, NPPD – Cooper Nuclear Station
NEMA Region 26 Flood Response
Lyndon Vogt, Central Platte NRD
John Winkler, Papio Missouri NRD
Stanley Clouse, Mayor of Kearney, NE
Bob Hilski, Nemaha NRD – Buck and Duck Watershed Structures
Younes Hospitality, Kearney, NE
3:00 PM – 3:45 PM BREAK
Visit Exhibits
3:45 PM – 4:45 PM AFTERNOON 2ND SESSION
Breach of the Loup Power Canal
Neil Suess, Loup Public Power District
4:45 PM – 7:00 PM RECEPTION WITH EXHIBITORS
Join your colleagues for networking, a drink and great appetizersSave
Save
TUESDAY, NOVEMBER 26, 2019
7:30 AM – 9:30 AM Registration
7:30 AM – 8:15 AM
NeWRA Annual Members Meeting

8:30 AM – 9:00 AM
NeWRA Board Meeting

9:00 AM – 9:45 AM MORNING 1ST SESSION
Mining Niobium in Southeast Nebraska
Scott Honan, President, Elk Creek Resources Corp.,
and Director of Business Development, NioCorp
9:45 AM – 10:30 AM  MORNING 2ND SESSION
Platte River Recovery Implementation Program Update
Jason Farnsworth, Executive Director, Headwaters Corporation
10:30 AM – 11:00 AM BREAK
Visit Exhibits
11:00 AM – 12:15 AM  MORNING 3RD SESSION
Nebraska Agency Reports:
Jeff Fassett, Nebraska Department of Natural Resources
Aaron Thompson, US Bureau of Reclamation
Jeff Edwards, Nebraska Department of Environment and Energy
Michelle Koch, Nebraska Game & Parks Commission
12:15 AM – 1:30 PM LUNCH
Lessons Learned in Chile
Kris Polly, Water Strategies, LLC and Irrigation Leader
Brad Edgerton, Frenchman/Cambridge Irrigation District
Barb Cross, North Platte NRD
1:30 PM ADJOURN Save
Save
Monday Morning Break Sponsor



Monday Afternoon Break Sponsor

Monday Social Time Sponsor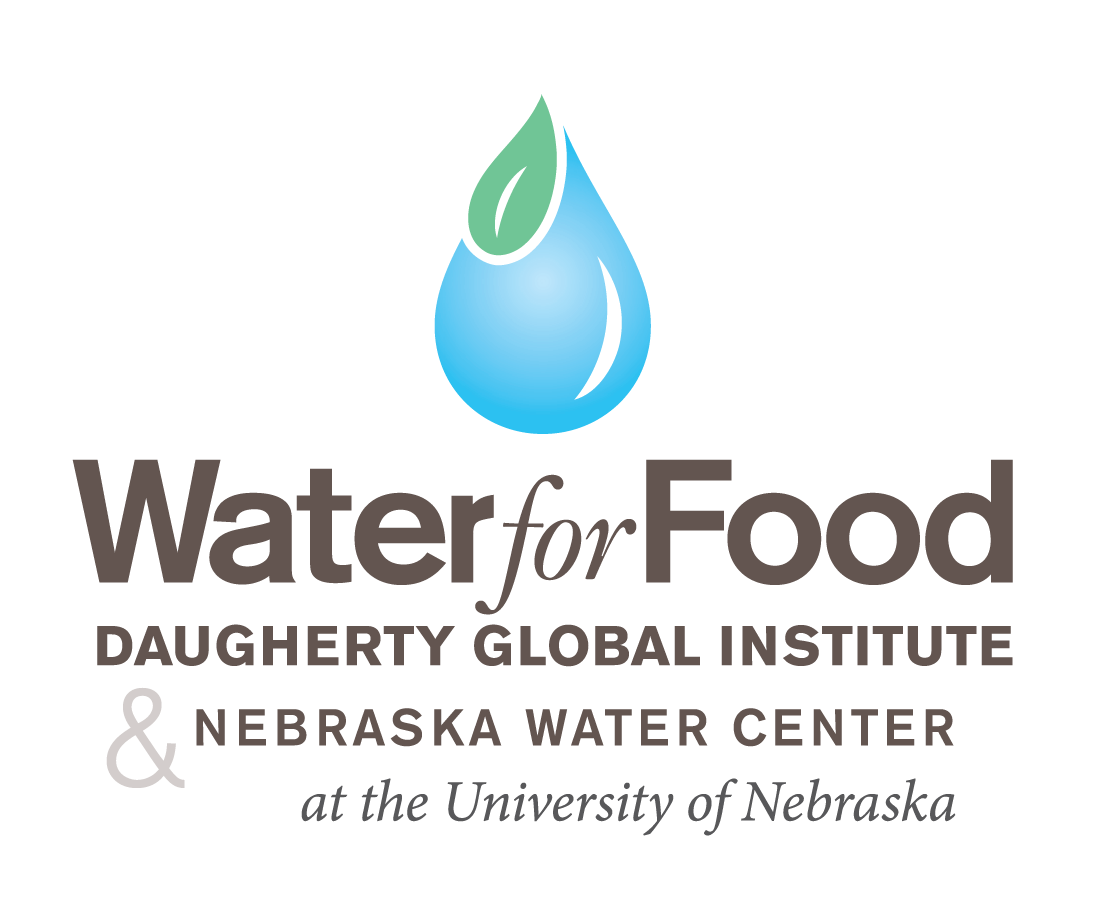 Current Exhibitors So Far!
Check back often for updates!
Diamond Plastics
Downey Drilling Inc.
Dynotek LLC
Growers Information Services Cooperative
The Harry A. Koch Company
HDR Engineering, Inc.
HOA Solutions Inc.
JEO Consulting Group Inc.
Lindsay Corporation
McCrometer Great Plains
Miller and Associates
Nebraska Department of Natural Resources
Nebraska Public Agency Investment Trust (NPAIT)
Nebraska Water Center
Olsson
Rubicon Water